Author & Photo: Shelby Reynolds, Published: July 30, 2014 By: The Wichita Eagle
MOXI Junction Coffeehouse in Maize A Special Place to Eat, Work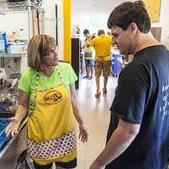 Joanna Kilgore was desperate to find a job for her 27-year-old son Laren, who is autistic.
When Laren was a high schooler, Maize High kept him – and other special needs students – busy. But after graduation, they struggled to find work.
"The world isn't quite as supportive," Kilgore said. "They couldn't get a job. (Businesses) want a productive worker, easy workers. Ours require a little extra thought."
Kilgore partnered with three other mothers of special needs children and young adults to create MOXI Junction, a coffeehouse, bakery and art gallery that opened Monday in Maize. MOXI stands for Moms of Exceptional Individuals and serves as a workplace for mothers and their children who would otherwise be unemployed.
"They were living at home, watching TV," said Kilgore, MOXI Junction's owner. "They didn't have any reason to get up in the morning. So they didn't. … We came up with an idea where they could live and work and be productive and feel like they were doing something."
A ribbon cutting Monday morning welcomed about 100 people, Kilgore said, and it was "just wild." The shop was open for five hours on its first day and easily met her goal of 200 coffees sold in a day.
She expected her son to be overwhelmed with the noise and rush of a new coffeehouse.
"But he absolutely thrived," she said of Laren. "He went up to people and would say, 'I'm so glad you came in. Do you want a latte?' "
The coffeehouse is in a charming white house with blue shutters, a picket fence and a wrap-around porch on the corner of Park and Academy, formerly Central Street. Rocking chairs, a garden and patio on the side complete the ensemble.
Inside, the walls are painted in cool blues and oranges. A bar along one wall has a power strip installed underneath, where Kilgore said she hopes Maize students will come study after school. Frames, pottery and various art projects sit in cubbies for purchase. Large wooden tables with plenty of chairs occupy the second floor of MOXI, where groups can study or hold meetings.
About two years ago, Kilgore purchased four houses on a single lot at an auction. The houses, which were about 100 years old, had roofs that were caving in and needed lots of repairs. They were eventually razed, except for one house in which Laren resides. From there, Kilgore's vision for MOXI Junction began.
She took an entrepreneurship class at Wichita State University's Barton School of Business to put together a business plan. She and another mother traveled to Chicago, Seattle and St. Louis to attend coffee conventions. She went to "barista school" and found a roaster to fly in coffee beans from all over the world.
Before all this, Kilgore drank "plain coffee."
"We knew nothing," she said. "Even about water. You can't have great coffee without great water. Well, that never occurred to me. It is so specialized. And we're pretty darn good at it now."
The menu features oatmeal, coffees, espresso, smoothies and loose leaf teas. The drinks include unique ingredients such as coconut water, currants, rosehip peels and sunflower. A bakery counter has platters of cinnamon rolls, biscotti and a variety of cookies. MOXI also serves breakfast burritos in the morning and cheeseburgers for lunch.
Money became an issue weeks away from opening day, which was pushed back several times. Kilgore started an online Kickstarter campaign to help finance MOXI's customized kitchen and collected more than $20,000.
"All those people backed me just on a vision," she said.
On Tuesday, Laren showed up at the coffeehouse around 11 a.m. He was shy of the camera but was eager to approach customers, some he knew and some he didn't know.
"Would you like a job application?" Laren asked one customer who ordered a coffee and a cinnamon roll. After the first two weeks, MOXI Junction will be open from 8 a.m. to 2 p.m. Monday through Friday.
"We planned for three years, and honestly," Kilgore said, "just to see the dream come true has been a bit overwhelming."