Author: Travis Mounts, Published: August, 2012 By: Westside Story
Moms Create Homes for Special Needs Kids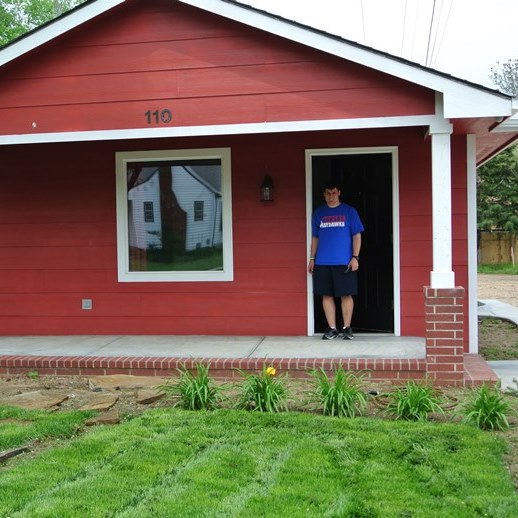 For many years, a retired gentleman known simply as "Bob" would wave every day to Maize School District students who went by his home on their way to school. Most people knew little about Bob, other than the fact they knew they could count on him being there for the young bus riders. Bob died several years ago after having become a Maize institution.
That tradition is finding new life in a new way, thanks to the efforts of four WestSide mothers who have been looking for housing options for their children and have created a unique situation in the heart of Maize.
Joanna Kilgore, Pat Leon, Scarlett Tully and Kate Scheer are creating MOXI Junction, a place where people come together. MOXI stands for "Mothers Of eXceptional Individuals."
Kilgore's son, Laren, has autism. He's a young man now, and has completed his schooling at Maize High School. Special needs students at Maize attend school until they are 21. But after that point, Kilgore said, it becomes difficult to find homes and employment for individuals like Laren.
"Three of us moms had been talking about life after high school," Kilgore said. She said group homes often don't work well for people with autism, they generally need a very specific schedule and can struggle with the variables that can come with a group setting.
An opportunity arose when three buildings on Park Avenue in the center of Maize became available for sale at auction.
"I thought Laren would like to be Bob. Hel loves traffic and people," she said. "The whole city loved Bob."
Kilgore had been trying to buy one home for about two years when the auction came up. The requirement to purchase all three properties got her and the other moms thinking about how to get other people involved, including an opportunity to provide jobs.
"We decided to put a coffee shop in. My friends and my family are very artistic," she said.
An open house was held recently to show off the progress and to highlight the plans to come. Laren's house is done and he's getting settled in, and an adjoining home for a caregiver is nearly finished and a caretaker family will be moving in. The coffee shop is slated to open early next year, and more homes will follow. Future homes will follow in the same area. In the process, one neighborhood in Maize that needed some love and attention is being revitalized. Laren's home was uninhabitable before the work began.
"It's improving the neighborhood and people are very receptive," Kilgore said. "The process has been leading itself."
"This little house was a Godsend. I've been drug along by this, and things just keep coming together," she said.
She said the reception from the city and neighbors has been overwhelmingly positive.
"The community and city workers and police have been great. The churches are willing to look out for them. I chose Maize because they're so willing to look out for them," said Kilgore, as a Wichita resident in the Maize School District.
The moms have unwittingly become trend-setters in how to care for adult children with needs.
The coffee shop will be a for-profit venture, and the goal is to have proceeds subsidize the homes and pay for the caretaker.
"It's for-profit because non-profit and government hasn't worked for any of us," Kilgore said. "The idea is to take these kids and keep them as part of society."
They are already getting questions on how to replicate their effort, even though it's still in its infancy.
"Everybody's looking for an alternative to the government. It has to be affordable because the kids have no money," she said.