Author: Katie McLachlan, Photo by: Cheyenne Esser, Published: Spring, 2014 By: MHS Play Magazine
Coffee With A Special Purpose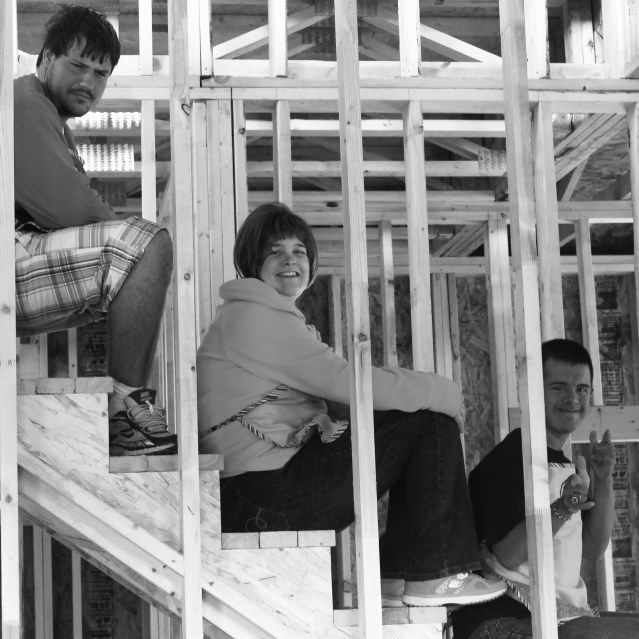 A dream is finally becoming a reality for mothers Joanna Kilgore, Pat Leon, Scarlett Tully and Kate Scheer.
MOXI Junction is a coffee shop that will open soon in Maize. But it's not the average coffee shop. MOXI stands for Mothers of Exceptional Individuals. Three of the women are mothers of Maize graduates with disabilities.
Joanna is the mother of Laren Kilgore. Laren, who graduated in 2006, was diagnosed with autism, brain damage and epilepsy when he was 1 month old. Pat is the mother of the Chris Leon, who graduated in 2009 and was diagnosed at birth with Down syndrome. Kara Tulley is the daughter of Scarlett. Kara, who graduated in 2007, was diagnosed in elementary school with being developmentally delayed.
"The entire reason is the three of us have special young adults, with no jobs and no way to get them a job. So we came up with this idea of a coffee shop so that we can provide them with a job," Joanna Kilgore, the group's business developer, said. "It incompasses everything we've talked about for 15 years."
Laren, Chris and Kara will participate in the running of the shop. Because of their disabilities, they tend to lose interest in jobs faster, therefore, making it harder to find creative jobs that they will enjoy.
Laren will be the dishwasher, so there will be no throwaways except at the drive through. Kara will greet people and possibly help clean tables.
"We also have a garden outside. Again, based off the fact that some of the kids don't want to be around the customers," Joanna Kilgore said. "They would prefer to be out commuting with the flowers and watering them."
MOXI Junction will serve specialty coffee and baked goods.
"It's stuff you would find that your grandma would make or your mom would make," Joanna Kilgore said. "We're not looking at fancy, we're looking at tastes awesome."
Along with the many hot beverages, there will also be hot chocolate and drinks called Italian phosphate, which are flavored drinks with carbonated water.
"Think of it like an old soda fountain," Joanna Kilgore said.
The coffee shop will also feature an art gallery.There will be unusual photographs, mosaic tables and refurbished furniture.
"It's really more of an artisan," Joanna Kilgore said. "It's not arts and crafts, it's not museum, we are right in the middle."
The opening of MOXI Junction has not been easy. It has been three years since the mothers began working on this dream.
The memory of Bob Timmons, who was familiar face where MOXI is located, played into Joanna Kilgore's inspiration for her son.
Timmons, who died in 2005, lived on West Central in his yellow, two-bedroom house. He would sit on his front porch, smiling and waving to the children who passed by on their way to school..
"I thought Laren would like to be Bob. Autism loves things that move, and I just thought he should be Bob," Joanna said.
Because the house was on the bus route, she wanted it even with the roof and the walls caving in. The only way she could get the house was to also buy two nearby properties before they were auctioned.
When her husband, Leonal Kilgore, asked her what she was going to do with the other properties, she said she told him "more housing and these kids need a job. I have these awesome artist friends who need to show their work."
Thinking of what would make people come in, she thought coffee.
"So we started with a very simple idea that we were going to serve coffee from air pots," Joanna Kilgore said. "And it has morphed into way beyond that."
That was three years ago.
"It's really a coming together of hopes and dreams and everything we've been talking about for years," Joanna Kilgore said.
MOXI Junction plans to open in the spring of 2014.